Movie/tv News
The 10 Best Tom Hanks Comedies & Where To Stream Them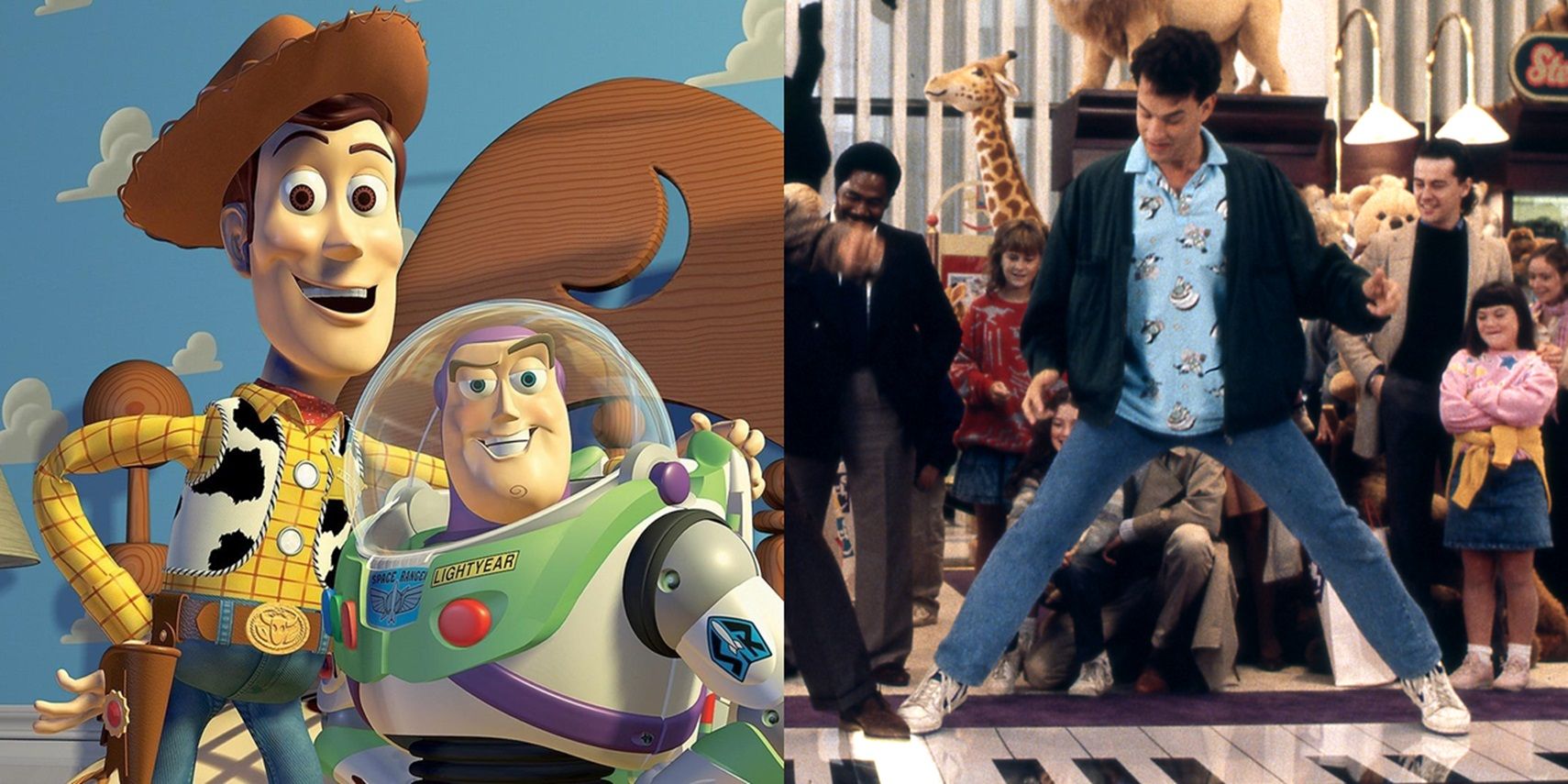 Now that he's become one of the most celebrated movie stars in the world, Tom Hanks is primarily known as a dramatic actor. He won back-to-back Best Actor Oscars for Philadelphia and Forrest Gump and gave similarly emotionally engaging performances in Saving Private Ryan and Captain Phillips.
RELATED: Tom Hanks' 10 Most Likable Characters, Ranked
But Hanks wasn't always a straightforward dramatic performer. His first starring roles were in the comedies Splash and Bachelor Party and throughout his career, in between Oscar-baiting dramas and true-life thrillers, Hanks has given plenty of hilarious comedic turns.
10

Splash (1984) – Stream On Disney+
Directed by Ron Howard, Splash is the movie that put Hanks on the map and made him a viable romcom lead in the eyes of Hollywood executives. He stars as a man who is rescued by a mermaid, played by Daryl Hannah, and returns to the same beach years later to reconnect with her.
In the wrong hands, this premise could've been too high-concept or one-note, but the screenwriters of Splash handled it so well that they landed a nomination for the Academy Award for Best Original Screenplay.
9

The Ladykillers (2004) – Stream On Disney+
Arguably Hanks' darkest comedy, The Ladykillers sees him leading a band of criminals who are caught red-handed in the middle of a heist by the landlady they're renting rooms from. They decide they have to kill her, but prove to be so incompetent that they end up killing each other first.
The Coen brothers' remake of the 1955 Ealing classic of the same name is, naturally, nowhere near as great as the original. But the Southern setting offers a unique twist and the movie exhibits the Coens' signature pitch-black sense of humor.
8

Charlie Wilson's War (2007) – Rent On iTunes
While it's far from a traditional comedy, Charlie Wilson's War has more than enough laughs to satisfy comedy fans. Hanks stars as a chauvinistic congressman who has to put his lavish, Wolf of Wall Street-esque lifestyle to one side in order to support Afghan troops against Soviet invaders.
In the hands of The Graduate director Mike Nichols and The West Wing creator Aaron Sorkin, who wrote the movie's screenplay (which explains its snappy dialogue), Charlie Wilson's War is a biting political satire.
7

The Money Pit (1986) – Rent On iTunes
Hanks stars alongside Cheers' Shelley Long in The Money Pit as a young couple who buy a fixer-upper with such unforeseen problems as a crumbling staircase and a giant hole in the floor. Their relationship is put to the test as they desperately try to renovate the house to at least a liveable standard.
RELATED: Tom Hanks' 10 Best 90s Movies (According to IMDb)
This movie is painfully relatable to anybody who's bought a house that needed fixing up. Slapstick comedy doesn't always work, but The Money Pit's cartoonish set-pieces – meticulously staged by the cast and crew – land spectacularly.
6

Turner & Hooch (1989) – Stream On Disney+
Every "buddy cop" movie worth its salt needs to put a unique spin on the well-worn premise of mismatched detectives being forced to work a case together. Turner & Hooch does just that as it pairs up Hanks' police investigator Scott Turner with the only witness to a murder: a dog named Hooch.
This movie was recently adapted into a Disney+ original series, but Josh Peck and his canine co-stars lack the hilarious on-screen chemistry that Hanks shared with Beasley the Dog.
5

The 'Burbs (1989) – Rent On iTunes
In a hysterical examination of the mundanity of suburban life, The 'Burbs stars Hanks as a workaholic who gets a week off and begins to suspect that his neighbors are in a Satanic cult – or he might just be dangerously bored.
Directed by Gremlins' Joe Dante, The 'Burbs has a wonderfully dark sense of humor, blending a quirky satire of suburban life with macabre horror.
4

Big (1988) – Stream On Disney+
One of the quintessential blends of the fantasy and comedy genres, Penny Marshall's Big sees a 12-year-old boy making a wish at an arcade fortune-teller machine to be "big." The next morning, he wakes up and he's Tom Hanks.
This movie marked a major turning point for Hanks' career. It was warmly received by both critics and audiences and established Hanks as a bankable leading man.
3

Catch Me If You Can (2002) – Rent On iTunes
Steven Spielberg's Catch Me If You Can, based on the accounts of con man Frank Abagnale, Jr., isn't exactly a straight comedy. But Spielberg does frame Abagnale's cons as a classic caper, and some of the stories featured in the movie are so outrageous that Spielberg couldn't help but play them for laughs.
RELATED: All Of Steven Spielberg's Movies Based On Real Events, Ranked
A young, bubbly Leonardo DiCaprio stars as Abagnale, while Hanks makes for a hysterical deadpan foil as Carl Hanratty, the clueless FBI agent on his tail (based on Joseph Shea).
2

A League Of Their Own (1992) – Rent On iTunes
One of the most acclaimed sports movies of all time, A League of Their Own tells a fictionalized version of the true story of America's first all-female baseball league. When most of the country's men were shipped off to fight in World War II, this league kept the national pastime alive.
Geena Davis is the undeniable star of the movie, but Hanks gives a scene-stealing turn as the central team's hard-drinking, hilariously bitter manager Jimmy Dugan.
1

Toy Story (1995) – Stream On Disney+
As not only Pixar's first movie, but also the first feature-length computer-animated movie ever made, Toy Story is a significant piece of film history. And unlike a lot of cinematic breakthroughs, it has a strong enough story to back up its technical achievements.
In addition to being an impressive feat of animation, Toy Story is one of the sharpest comedies ever made, deftly weaving its curious worldbuilding into the universally relatable story of Woody being threatened by impressive newcomer Buzz. The perfectly structured narrative is timeless: as they face adversity together, Woody and Buzz gradually become friends before finally reuniting with Andy and his other toys.
NEXT: How Toy Story Established Pixar's Storytelling Style

Next
5 Anime Characters Who Could Beat Thanos In A Fight (& 5 Who Couldn't)

About The Author
Share this news on your Fb,Twitter and Whatsapp